A 2-year-old boy and four other children were sent to the hospital with injuries after a car crashed into a day care center in California. To access our
recent news article on the car accident/ day care accident, click here
.
If your child has been injured in a
car accident
and you have questions regarding your legal rights, what typically happens following a
car accident
, and how your child can receive the proper medical care, feel free to order
Chris Keane
's book,
Little Kids in Big Car Accident Cases
, and the
Keane Law Firm
will gladly send you a copy for free.
For other free resources, helpful information, and answers to your important questions,
contact the Keane Law Firm via the web
or call
1-888-592-KIDS
.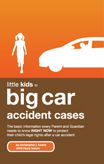 Category: Car Accident
There are no comments.
Post a comment
Post a Comment to "Car Crashes into CA Day Care, Child Trapped Beneath Vehicle | California Car Accident & Day Care Injuries Lawyer"
To reply to this message, enter your reply in the box labeled "Message", hit "Post Message."