An unusual car accident in Huntington Beach, California, injured five children and pinned one of them beneath the vehicle when a car crashed into a child care center around 7:45 a.m. Thursday, according to Fox News. According to Martha Werth, spokesman for the Huntington Beach fire department, 14 children were inside the Childtime Learning Centers building when the mother of one of the school's children lost control of her vehicle. The car reportedly jumped the sidewalk and slammed into a doorway at the school, trapping a 2-year-old boy beneath it. He and a 3-year-old girl were transported via ambulance to a nearby trauma center, where they are expected to recover. In total, 5 children under 5 years of age required transportation to hospitals following the California car accident/ day care accident on Yorktown Avenue. Following the crash, the day care lost power and shut down temporarily.

At the Keane Law Firm, Chris Keane focuses his practice on children and only children. With years of experience representing children in car accident, child injury, and day care injury cases, Keane understands the trauma of seeing a child injured in an accident. If your child has been injured at day care, in a car accident, or elsewhere, contact the Keane Law Firm for free resources, helpful information, and answers to your most important questions. 1-888-592-KIDS (1-888-592-5437).

To read more about children's legal rights after car accidents, order Chris Keane's child car accident book for free: Little Kids in Big Car Accident Cases.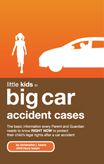 Relevant Link:
FoxNews Article on the California Day Care Car Accident